©AFP/Zakaria Abdelkafi
Clicking is a clickable zapping where you are served the most important news of the month. This month in the clicking: denouncing feminicides, Allyson Felix breaking Usain Bolt's record, and a gender-neutral doll…
A rally in Paris to mark the 100th feminicide of the year and pay tribute to the victims
This month, the death of a woman in Cagnes-sur-Mer (France) marked the 100th feminicide of the year in France. The #NousToutes collective organized a rally at the Trocadéro in Paris to denounce these murders but also to pay tribute to the victims by holding signs with their names on them. The demonstrators also demand a larger budget to be able to effectively fight feminicide.
CLICK! (in French)
Demonstrations in Indonesia against a series of controversial laws
Several thousand students demonstrated near Parliament in Jakarta, the Indonesian capital, against controversial laws. These include a reform that would weaken the anti-corruption agency (KPK), a ban on blasphemy and insults against the president, but also a revision of the penal code that would consider prison sentences for relationships outside marriage or between people of the same sex. It would also become illegal to "show or offer" contraceptive methods to minors. In contrast, Indonesia raised the legal age for marriage to 19 years old from 16 years old, a step forward against child marriages.
A man convicted of statutory rape against his 4-year-old daughter, the girl was considered consenting by the Saint-Malo (France) court
He laid his 4-year-old daughter's hand on his penis, and was sentenced to eight months suspended prison for "statutory rape and neglect". But why isn't that considered sexual assault? In the Criminal Code, sexual assault is "committed with violence, coercion, threat or surprise" which statutory rape isn't. But wasn't the girl forced by her father? By condemning the man only for statutory rape and not assault, the court would therefore imply that his daughter had consented.
CLICK! (in French)
Athlete Allyson Felix breaks world records at the World Championships, only 10 months after giving birth
Allyson Felix won the 12th gold medal of her career on the mixed-gender 4x400m relay team at the Doha World Championships. She now becomes the athlete with the most gold medals, male and female alike, and dethroned the legend Usain Bolt, who had 11 medals to his credit. The day after this feat, Jamaican Shelly-Ann Fraser-Pryce defeated the competition in the 100-metre final and then took a lap of honour with her son Zyon. Felix looked at her with her daughter in his arms, and said she had "chills" all along.
The President of the French Professional Football League raises awareness against homophobia
Nathalie Boy de la Tour, President of the Professional Football League (LFP), held a meeting with LGBT associations, partners of the League, and the National Supporters Association (NSA). She plans to ban homophobic and racist insults and violence in the stadiums, but there is still a lot of work to be done. According to her, "supporters do not perceive the discriminatory nature of words. " She adds, "our desire is to reduce this perception gap. So raise awareness. " Finally, she states that "stopping a match is not the right solution".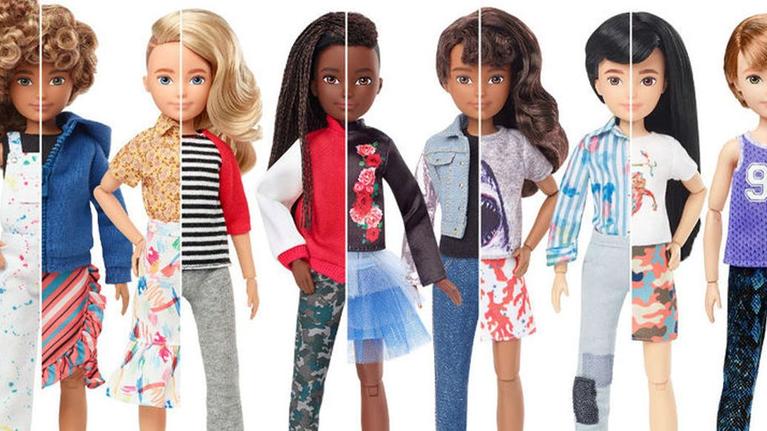 Barbie's creator creates a gender-neutral doll: neither girl, nor boy, or a little of both
This range offers seven gender-neutral dolls, therefore showing no elements on their bodies or faces that make them "girl" or "boy", and representing children instead of adults. The doll created by Mattel will only be marketed in the United States (for the time being) and named "Creatable World". Children will be able to personalize them with accessories such as long or short wigs, or clothes such as skirts, pants, or shorts.
"Conversion therapies" soon to be banned in France
In March 2018, the European Parliament adopted by a large majority a non-binding text calling on Member States to ban conversion therapies. These consist in forcing homosexuals and transgender people to heterosexual conversion or adopting heterosexual and cisgendered behaviours. However, these practices are still legal in France. A parliamentary mission on "practices claiming to change a person's sexual orientation or gender identity" met for the first time this month in the National Assembly with the aim of banning these medieval and dangerous practices.

Tasmania makes gender identification on identity documents optional and modifiable
The State of Tasmania in Australia has passed two new laws concerning gender identification on identity cards: it is no longer mandatory, but it is also possible to change sex without proof of surgery or sexual reassignment for transgender people. This new legislation allows young people from 16 years of age to change sex by means of a statutory declaration without the consent of their parents.
In Paris, women wear burkinis to the pool to protest against its ban
About fifteen women came to a swimming pool in the 11th arrondissement to swim in a burkini to protest against the ban on this bathing suit. They were accompanied by activists in bikinis and transgender people as well as men in swimsuits, forming a collective for the occasion, calling for "a change in the internal rules of swimming pools, and accessibility to leisure for all". After the lifeguards' intervention, the police eventually arrived and the management team closed the pool within half an hour. The demonstrators left stating: "Pool for everyone, stop islamophobia".
The French Forum on domestic violence is launched
The government launched a Forum on domestic violence on Tuesday, September 3, in order to fight feminicide more effectively. Different actors from state services, associations and families of victims will have the opportunity to meet and share their experiences to discuss the measures to be taken so that the government can take concrete reforms to combat domestic violence.
Sandra Muller, the woman behind #balancetonporc, convicted of defamation
Sandra Muller, the initiator of #balancetonporc (equivalent of #MeToo in France), was convicted of defamation against the man she accused of harassment. She will have to pay 15,000 euros in damages to Eric Brion, whom she reported on twitter in 2017 with the following tweet: "You have big breasts. You're my type of woman. I'm gonna make you come all night" Eric Brion ex-boss of Equidia #balancetonporc." Sandra Muller had pleaded for the speak openly about harrassment through the hashtag in question, while Eric Brion accused her of "denunciation".